MASTER PERCUSSIONIST, CREATOR OF HIS INSTRUMENTS, OF A NEW MUSIC, OF "SOUND AND RHYTHM", THE ORAL AND VIBRATORY TRANSMISSION SCHOOL, WRITER AND SPEAKER, SCULPTOR AND PAINTER
Welcome to Jacky Craissac's website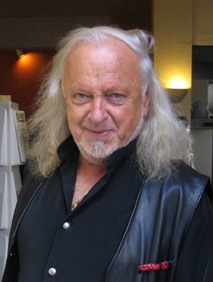 VIDEOS :
jacky craissac la soumission au son by idcourtes
Dedication of the Jacques Thibaud conservatory of Bordeaux to the CAPC Museum of Contemporary Art of Bordeaux, April 10, 2010
AUDIO :
The sounds are completely acoustic. All recordings are made live and in a single session, without mixing.

EXTRACT FROM THE CONCERT IN PORTO 2001, EUROPEAN CULTURAL CAPITAL
PRESS :
"At the source of music… The musician revives all that is vital in the art of sound. Bringing to light the circumstances of its birth, he also reveals and transmits its full emotional and spiritual richness, with an evidence that no treaty can equal (translated by Laure Wright).

Luc Bourrousse – Sud Ouest – March 22, 2007
"Unquestionably Jacky Craissac is one of the most creative percussionists of his generation."

Florence Mothe – Musiques, 1986
Heir to an oral musical tradition, Jacky Craissac (1935-2010), virtuoso musician, acquires international fame in the 1960s as a drummer and percussionist in modern jazz before becoming a "master of sound".

From the 70s, his commitment leeds him to create his own instruments and a new, purely acoustic music
He is a pioneer in his field: the first revealer of a new aesthetic which combines ancestral character and contemporary acoustics..
At the same time, he founds the school of artistic expression of oral and vibratory transmission through sound and rhythm. His multidisciplinary and creative approach makes him the precursor of an ancestral pedagogy.
Painter, sculptor, writer and lecturer, Jacky Craissac plunges us into the heart of a language resulting from oral transmission, intertwined with poetry, imprinted with his heritage.
His thought stems from philosophy and metaphysics.
Visionary artist, Jacky Craissac, shares the fruit of his awareness of the individual, of what he is and what he has become. He offers a way to reconnect with oneself, his sensitivity, a way for him to regain our balance and our humanity.
Quote from Jacky Craissac:


"I didn't learn music, it was transmitted to me. The rhythm and the sound are inner. The genesis of my work is my birth, my ancestral heritage and my path. This is the sound and the cult of my ancestors. This with the time of life given to me.

Music is the dance of sound in space.
Art expresses emotion, without fear or doubt, it is the repetitive expression of sound and rhythm. Nature is the creation of art. Creation is birth.
Birth is freedom.

Sacred art is color. The roots, freedom, passion, the soul of the nomad. "



The first book on the work of Jacky Craissac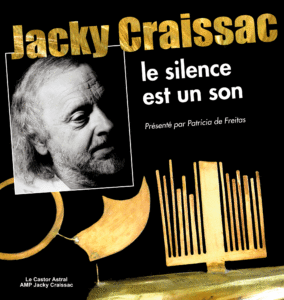 Work of excellence, powerful and original
In this richly illustrated book, his life journey is retraced while highlighting the singularity of his approach. His work is reconstituted through the photos of the instruments he created. His school of artistic expression of oral and vibratory transmission Son et Rythme, his conception of improvisation, a selection of his writings and aphorisms from 1970 to 2009 and the reproduction of his paintings, until then unpublished, are presented as so many testimonies of his creative genius.
His instruments, original sound sculptures, are revealed through the eye of photographer Jean-Jacques Soin.
Prefaced by Jean-Luc Portelli, director of the Bordeaux Regional Conservatory, who pays tribute to his commitment and by Pascal Pistone, director of the music branch of the University of Bordeaux Montaigne, musicologist and pianist who puts his work into perspective with the repertoire contemporary scholarly music. Next comes the testimony of Roger Lafosse, director of the avant-garde Sigma Festival in Bordeaux.
"Artists like Jacky Craissac must be protected and valued as their approach is rare, precious and unique. At a time when we are all victims of modes of representation inherited or manufactured on art, from its pure legitimacy to its most commercial profits, it is important to show the interest we have in an artist who has put freedom and risk at the center of his expression."

Jean-Luc Portelli
"Music becomes, for Jacky Craissac, a sound art inspired by a very philosophy of life. Few creators and performers have succeeded as much as him in matching their activity as a musician and their art of living, their artistic experience and their personal beliefs, their passion for instrumental making and their respect for nature and human beings – an authenticity that shines through in the nobility of the materials used to build musical instruments that are always unique."

Pascal Pistone
NEWS
Saturday, September 30, 2023 :
The baptism of the percussion room of the music school of the city of Bègles in France (Gironde) in the name of Jacky Craissac.
In this context, a round table around a problematic of the artistic work of Jacky Craissac organized by the music sector of Bordeaux Montaigne University and AMP JC.
The second book bringing together his original writings on his teaching should be released soon by the same publisher.